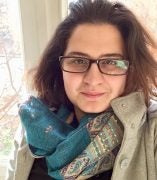 Lynn Darwich
Graduate Student
Anthropology, Sociocultural
About
I am a cultural anthropologist in the making whose research and activism are grounded in queer grassroots organizing and feminist cross-movement building. I dedicated the past decade to realizations of social, economic, racial, ecological, and gender justice. In Beirut, I co-coordinated a support group for queer women and trans persons, have been the English editor of a feminist and queer magazine, and a founding member of a local feminist collective. I have been part of global feminist and human rights organizations, alliances, and solidarity networks – such as the Association of Women's Rights in Development (AWID), Amnesty International, the Coalition for Sexual and Bodily Rights in Muslim Societies (CSBR), and Realizing Sexual and Reproductive Justice (RESURJ) – where I connected and worked closely with social justice advocates around the world. My research interests are in exploring non-oppressive forms of solidarity and coalition building within and across social movements for justice.
Selected Grants
University of Illinois at Chicago, Department of Anthropology, Al and Judy Blitz Scholarship, 2019
University of Illinois at Chicago, Department of Anthropology, Joshua J. Terry Award, 2022
University of Illinois at Chicago, Gender & Women's Studies, Mary B. Bialis Prize, 2022
Selected Publications
Darwich, Lynn, and Sirene Harb. 2018. "Violent Intersectionalities and Experiences of Marked Arabness in Randa Jarrar's A Map of Home." Arab Studies Quarterly 40 (4): 300-318.
Darwich, Lynn, and Haneen Maikey. 2014. "The Road from Antipinkwashing Activism to the Decolonization of Palestine." WSQ: Women's Studies Quarterly 42 (3–4): 281–85
Education
2022 – MA University of Illinois at Chicago, Anthropology
2014 – MA American University of Beirut, English Literature