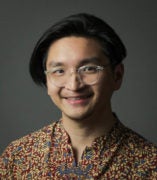 Aldo Foe
Graduate Student
Anthropology, Archaeology
Contact
Address:
1007 W. Harrison
Email:
CV Download:
About
I am an anthropological archaeologist interested in issues of identity, social change, and urbanism in Island Southeast Asia. My research is mainly focused on the Islamization of Southeast Asia and the application of the regional approach to Southeast Asian archaeology. Currently, I am working on my dissertation project investigating the political and economic shifts in the Early Modern Period in Java, Indonesia, and how they relate to processes of urbanism and religious change following the proliferation of Islam in the region. My graduate studies and research have been funded by the University Fellowship from the University of Illinois at Chicago and the Fulbright Student Research Grant.
Selected Grants
Fullbright Student Research Grant, "The Origin and Spread of Islam in the Indonesian Archipelago: a ceramics perspective", Principal Investigator
Education
M.A., University of Illinois at Chicago, 2015
B.A., CUNY Queens College, 2009
Selected Presentations
Accepted        Foe, A.W., Sulistyowati, D. Indonesia's Own 'Pyramid': The imagined past and nationalism of Gunung Padang. Paper accepted for the panel: Archaeology, Heritage, and Nationalism in Southeast Asia chaired by Dr. Nam C. Kim and Dr. Oona Paredes, 2019 Association for Asian Studies Conference, Denver, Colorado.
2017   Foe, A.W. Early Islamic Diasporas and Globalism in the Indonesian Archipelago. Paper presented at the 2017 mid-year Conference for US Fulbrighters in Southeast Asia in Manila, Phillipines.
2015   Foe, A. W. Rebel, Rebel: The nature of conflict between Copan and Quirigua, A.D.738. Paper presented at the Midwest Conference of Mesoamerican Archaeology and Ethnohistory at Middle Tennesse State University
Research Currently in Progress
historical archaeology, identity, culture change, colonialism, Islanic Archaeology