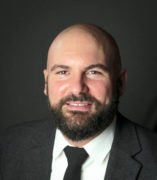 Franco D. Rossi, PhD
Visiting Lecturer
Anthropology and Latin American and Latino Studies
Contact
Building & Room:
BSB 3110A
Address:
1007 W. Harrison Street
Email:
CV Download:
About
As an archaeologist of the Americas, I am broadly interested in the diverse ways education, memory and statecraft come together at different political moments and the material records they involve.  I have spent the last decade engaged in the archaeological study of Precolumbian codex books, murals and the material contexts and processes of their creation.  Drawing on a blend of archaeological methods, historical analysis, and material culture examination, my first book project grows out of long-term collaborative fieldwork at the site of Xultun, located in the Maya Biosphere Reserve of the Petén District in Guatemala.  My work on a Precolumbian mural context there suggests it was once a locus for the practice and pedagogy of indigenous Maya arts and sciences.
This manuscript places artistic analysis, materials science and history of science in dialogue with archaeological methods and social theory, to track how state authorities of the Americas were intimately involved in the generation and transmission of specialized literacies and meticulous knowledge about the natural world.  It explores how such expertise was crafted by particular political orders that fit precariously into broader systems of governance, power and representation, and the effects of such systems on human and nonhuman bodies. This includes how different domains of knowledge figured into sustaining systems of inequality and sovereignty, as well as tracing the ways such systems were violently altered in the centuries following Spanish conquest.
Growing out of commonly encountered public misunderstandings of archaeology, I have also been tracing the media uptake of "pseudoarchaeologies" in relation to white supremacy.
Selected Grants
Cora Du Bois Trust, Summer Fellowship 2018, Principal Investigator
Dumbarton Oaks Research Library and Museum, Junior Fellow 2013-2014,
Boston University, Graduate Research Abroad Fellowship 2012, Principal Investigator
Selected Publications
Rossi, Franco D. 2018. "Pedagogy and State: An Archaeological Inquiry into Classic Maya Educational Practice." Cambridge Archaeological Journal 28(1): 85-102.
Rossi, Franco D., Heather Hurst and William Saturno. 2016. El Taller de Los Sabios: La Producción de Murales y Códices en Xultún, Guatemala." Arqueología Mexicana 23(137): 68-75.
Rossi, Franco D. 2015. "The Brothers Taaj: Civil-religious Orders and the Politics of Expertise in Late Maya Statecraft." Dissertation, Department of Archaeology, Boston University.
Rossi, Franco D., William Saturno and Heather Hurst. 2015. "Maya Codex Production and the Politics of Expertise: An Archaeology of a Classic Period Household at Xultun, Guatemala." American Anthropologist 117(1): 116-132.
Notable Honors
2014, Angela J. and James J. Rallis Memorial Award Fund, Boston University
2014, Helen G. Allen Humanities Award, Boston University
Selected Presentations
2018   "The Monuments that Weren't: Reckoning with Unmarked Histories of Violence." (Paper presented in session, "Practicing Archaeology in the Contemporary Political Climate," at SAA 83rd annual meeting, Washington, DC, April 2018)
2017   "Murals, Graffiti and the Unprovenienced Pot: Dilemmas of Context and Looting in Northeastern Petén." (Lecture for "Textdatenbank und Wörterbuch des Klassischen Maya" 3rd Annual Workshop, the NRW Akademie der Wissenschaften and KR Friedrich-Wilhelms-Universität Bonn, Germany, December 2017)
2017 "Inequality and Gender in the Spaces of Artistic Production." (Paper co-authored with M. Clarke presented in Symposium, Spatial Approaches to Craft Production, at Society for American Archaeology (SAA) 82nd  annual meeting, Vancouver, BC, Canada, March-April 2017)
2017  "The Role of Murals in Ancient Maya Education." (Lecture for "Murals of the Americas" Seventeenth Annual Mayer Center Symposium, Denver Art Museum, Denver, CO, November 2017)
2016   "Making and Keeping Secret Knowledge at Xultun, Guatemala." (Paper presented in Symposium, Mesoamerican Painting: Social Memory on Virtual Display, at Society for American Archaeology (SAA) 81st  annual meeting, Orlando, FL, April 2016)
2015   "An Archaeology of Early Maya Writing." (Paper presented at Rutgers Conference on First Writing Systems, New Brunswick, NJ, May 2015)
2014   "An Archaeology of Pedagogy and Statecraft in the Americas." (Paper presented at Annual Meeting for American Anthropological Association, Washington, D.C., November 2014)
2014 "Una Exploración Epigráfica del Sitio Xultún." (Paper presented at XXVIII Simposio de Investigaciones Arqueológicas, Guatemala City, July 2014)
Press Coverage
'Ancient Maya Bookmakers get Paged in Guatemala.' Sciencenews, 2 Feb. 2015. www.sciencenews.org/article/anceint-maya-bookmakers-get-paged-guatemala
'Maya Mural Found in Guatemala…' NBC News, 20 Feb. 2015. www.nbcnews.com/science/weird-science/maya-mural-found-guatemala-reveals-ancient-photobomb-n309786
'Painted Maya Walls Reveal Calendar Writing.' New York Times, 10 May 2012. www.nytimes.com/2012/05/11/science/archaeologists-unearth-ancient-maya-calendar-writing.html
'Unprecedented Maya Mural Found, Contradicts 2012 "Doomsday" Myth.' National Geographic News, 12 May, 2012. https://new.nationalgeographic.com/news/2012/05/120510-maya-2012-doomsday-calendar-end-of-world-science/
Research Currently in Progress
My current research continues to focus on themes of education, science and statecraft through the archaeology and art of Mesoamerica with several publications (including a book manuscript) related to this work in progress.  I am also currently finishing a collaborative edited volume on Classic Maya dress, as well as several more recent archaeological discoveries documented by the Proyécto Arqueológico Regional San Bartolo-Xultun (PARSB-X).
In addition, my work has also begun to focus more on the role of memory-making and archaeology as it relates to the contemporary political moment and ongoing ethical debates within archaeology both in the US and abroad.  This new focus blends archival and material evidence with techniques for community-guided mapping in effort to extend archaeological insights to an historical case study and simultaneously engage the legacies and afterlives of US archaeological projects in mid-twentieth century Guatemala.