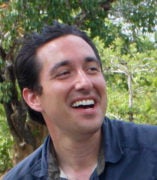 Jacob Orin Gold
Graduate Student
Anthropology
Contact
Building & Room:
BSB 2102
Address:
1007 W. Harrison
Email:
CV Download:
About
Jacob's path to academic work began with a post-university journalism fellowship through Princeton in Asia that lead to a year living and working in Hanoi, Vietnam and Phnom Penh, respectively, with plenty of regional travel in between. After deciding that the academic disciplines allowed for a deeper and broader engagement with this region in particular, and the broader human questions its histories and cultures can help answer at large, the arms of roads held Jacob in good stead all the way to UIC. And here he is. Jacob's interests span the subfields of anthropology and across the disciplines of the humanities and social sciences.
    After several years of course study punctuated by immersive fieldwork in various regions of Cambodia experiencing rapid post-conflict deforestation, Jacob's current research will continue to gather oral histories/life histories of generations marked by mass trauma and societal disruption (particularly the democidal Khmer Rouge regime), now drawing upon the voices of refugees here in Chicago and their descendants.
His central question is: how does "culture" as an object of functional complex society re-emerge after profound disruption, in what ways does this culture succeed or fail to integrate this disruption into its system of meaning, how do cultural participants per-se drive these processes individually and as community members? How do enculturated post-disruption communities generate "history" as a body of knowledge that captures this disruption? How do living participants in events becoming-history understand, articulate, and perform ideas of agency, cause and effect, and derived lessons in and from their own lives with respect to this history?
Selected Grants
Center for Khmer Studies, CAORC Fellowship (2017), Fellow
Center for Khmer Studies, Summer Fellowship (2014), Fellow
University of Illinois at Chicago, Chancellor's Award for Graduate Research (2013), Principal Investigator
University of Michigan, Viravan Thai Studies Endowment (2012), Principal Investigator
University of Michigan, CSEAS Promising Student Award (2011), Fellow
Princeton in Asia, Fellowship, Fellow
Princeton University, Shapiro Prize for Academic Excellence (2005),
Selected Publications
Nguyen Truong Quy (2014) The Wandering Motorbike. Essay collection. Original title: Xe máy tiếu ngạo. Translated by Jacob O. Gold, Center for Southeast Asian Studies, Ann Arbor. Nha Xuot Ban Tre [Youth Publishing House]: Hanoi
Service to Community
Independent Observer Chicago Ideas Week Youth Kickoff, October 2018
Selected to act as immersed observer within guided conversations among Chicago Public High School students concerning the meaning of digital citizenship in the 21st century. Also conversed with platform innovators in online activism organizing, educational content sharing and delivery. Submitted report on my findings to CIW organizers.
Partnership Development, Grant Writing, Public Outreach, Cure Violence May-August 2016
Helped build the e capacity of this international NGO, run as an initiative of the UIC School of Public Health committed to breaking cycles of conflict by treating violence as an epidemic disease.
Education
Ph.D. candidate, UIC Department of Anthropology, Aug. 2013—
MA student, UIC Department of History, 2015—
M.A., UIC Department of Anthropology (via Ph.D. track), awarded May 2015
M.A., Center for Southeast Asian Studies, University of Michigan, August 2013
A.B., cum laude, Anthropology, Princeton University, June 2006
Professional Memberships
American Anthropological Association, February 2016- Present
Society for American Archaeology, August 2015- Present
Selected Presentations
2016 "One Foot in the Field and the Other in the Forest: Indigenous 'State Hedging' in Cambodia and Beyond." SAA 81st Annual Meeting, April 6-10. Orlando, FL.
2015  "The Negotiated Wild: Khmer-Kuy Relations and the Politics of Habitat before 1970." SAA 80th Annual Meeting, April 15-19. San Francisco, CA.
2014  "Masters of a Fading Forest: Trade, Agency and Traditional Medicine Among the Kuay People of Cambodia." Michigan Anthropology Graduate Association Four-Field Conference ("Ebbs & Flows"), March 21-22.
2012 Contemporary Dimensions of the Isan Dialect: Traditions, Aspirations, Evolutions Presentation delivered at the Amnuay-Samonsri Viravan Thai Studies Endowment Benefactor's Symposium, Center for Southeast Asian Studies, University of Michigan, Sept. 14 2012.