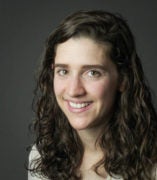 M. Elizabeth Grávalos
Graduate Student
Anthropology
Contact
Building & Room:
BSB 2102
Address:
1007 W. Harrison Street
Email:
CV Download:
About
As the Field Museum Women in Science Graduate Fellow, I conduct archaeological research on prehispanic communities in the north-central highlands of Peru. Specifically, my work examines ceramic production and consumption from a situated learning approach to understand how local villages mediated shifts in political economy. One way I do this is through the study of the technological attributes of pottery, including the paste recipes of specific vessel types. In doing so, I evaluate the creation, maintenance, and negotiation of local craft traditions and identify potting communities of practice. My work links theories of practice and technology to gain a diachronic understanding of ceramic production and social learning at the village level, and scales up to the regional context to elucidate social networks and economic relationships.
I served as a Graduate Research Assistant at the Field Museum's Elemental Analysis Facility from 2016-2019. Through this work, I gained expertise in several archaeometric techniques. This includes laser ablation - inductively coupled plasma - mass spectrometry (LA-ICP-MS) and petrographic thin-section analysis. I employ these techniques in my dissertation to examine variability in ceramic technologies over time and between discrete archaeological sites.
I have nine years of archaeological excavation and lab experience at highland and coastal archaeological sites in Peru. I have additional experience in historic archaeology projects in the city of Chicago and the Bahamas. Also, I have collections-based research experience at the Museo Arqueológico de Ancash (Ancash Archaeology Museum ) in Peru, the American Museum of Natural History (NYC), and the Field Museum. Finally, I served as the Textile and Perishables Specialist for PIARA (
piaraperu.org
) at the site of Hualcayán in Ancash, Peru from 2011-2014. As a part of this position, I cleaned, catalogued, and analyzed perishable materials recovered from mortuary contexts. This work formed the basis of my master's thesis at Purdue University.
Selected Grants
National Science Foundation, Doctoral Dissertation Improvement Award #1830719, "Consumption of Food and Social Distinction", Co-PI with Dr. Patrick Ryan Williams
Wenner-Gren Foundation, Dissertation Fieldwork Grant: "Social Distinction and Communities of Consumption at Jecosh, Peru (ca. 100-1000 CE)", Principal Investigator
The Field Museum's Women's Board, Field Dreams Grant: "Ceramics and Social Status in Prehispanic Peru", Principal Investigator
Rust Family Foundation, Archaeology Research Grant: "States of Consumption: Cultural Resilience and Politico-Economic Relations at Jecosh, Callejon de Huaylas, Peru (1-1000 CE)", Principal Investigator
American Museum of Natural History, Collections Study Grant: "Raw Material Procurement and Indigenous Knowledge: Ceramic Production During Wari State Expansion in the Callejón de Huaylas, Peru (600-1000 CE)", Principal Investigator
University of Illinois at Chicago, Chancellor's Graduate Research Award: "Wari Imperialism and Indigenous Knowledge: Political Economy and Craft Production in Prehispanic Peru", Principal Investigator
Selected Publications
In press          K.J. Vaughn, M.E. Grávalos, M Z. Zegarra, and A.J. Gorman, "Cerro Tortolita, an Early Intermediate Period Ceremonial Center in the Upper Ica Valley". Peruvian Archaeology, Yamagata University, Japan.
In progress     M.E. Gravalos, R.E. Bria, and L. Dussubieux, and G.F. Lau. "LA-ICP-MS of Recuay Ceramics and Raw Clays: Production and Consumption in the Callejón de Huaylas, Peru (100-700 CE)". For Journal of Archaeological Science.
In progress     M.E. Grávalos and R.E. Bria, "Prehispanic Highland Textile Technology: A view from the first millennium CE at Hualcayán, Ancash, Peru". For Ñawpa Pacha.
Notable Honors
2019, Ford Foundation Dissertation Fellowship, Honorable Mention, Ford Foundation
2016, Joshua Terry Award, UIC Anthropology Department
2014, Distinguished Master's Thesis Award, Purdue Univ, College of LAS
2020, Junior Fellowship in Pre-Columbian Studeis, Dumbarton Oaks
Education
2014 M.S. - Anthropology, Purdue University
2011 B.A. - Double Major in Anthropology and Spanish, DePaul University
Professional Memberships
Society for American Archaeology
Field Museum Women in Science
Selected Presentations
2019        M.E. Grávalos and I.C. Druc. Tracking 1,600 Years of Ceramic Technology at Prehispanic Jecosh (Ancash, Peru). Paper presented at the 84th Society for American Archaeology Meeting, Albuquerque, NM. April 10-14th.
2018   M.E. Grávalos and E.A. Sharp. Enduring Traditions, Material Transformations: Understanding Wari State Influence in Highland Ancash, Peru. Presented at the 83nd Annual Society for American Archaeology Meeting, Washington, D.C. April 11-15th.
2018               M.E. Grávalos. Mixed Clays, Mixed Methods: Geochemical and Mineralogical Approaches for Characterizing Pottery Technologies in Callejón de Huaylas, Peru. Invited talk for workshop "The 'Social' Side of Archaeometry: Scientific Methods for Addressing Anthropological Questions". Presented at the Field Museum, Chicago, Illinois, March 2nd.
2016               M.E. Grávalos, P.R. Williams, L. Monz, and E. Hubert. An Obsidian Stone Tool Workshop at Cerro Baúl? Wari Provincial Craft Production and Political Economy. Presented at the 81st Annual Society for American Archaeology Meeting, Orlando, Florida, April 6-10th.
2015               M.E. Grávalos and K.J. Vaughn. LA-ICP-MS Analysis of Nasca Ceramics from the Residential Sector at Cerro Tortolita, Ica, Peru. Presented at the 80th Annual Society for American Archaeology Meeting, San Francisco, California, April 15-19th.
2014               M.E. Grávalos and R.E. Bria. Conceptualizing Communities of Weavers and Group Identity Through the Analysis of Fragmented Andean Textiles. Presented at the 79th Annual Society for American Archaeology Meeting, Austin, Texas. April 23-27th.
Research Currently in Progress
Currently, I co-direct the Proyecto de Investigación Arqueológico - Jecosh (Jecosh Archaeological Research Project or PIAJ) in highland Ancash, Peru with colleagues Emily A. Sharp and Denisse Herrera Rondan. For this project our goal is to examine shifts in village life at the site of Jecosh between the Early Intermediate Period (ca. 100-700 CE) and the Middle Horizon (ca. 700-1000 CE) through excavations of domestic and mortuary contexts. We completed excavation in 2017, which revealed previously unknown mortuary practices and household architecture, as well as a unique ceramic assemblage. Our analysis of these findings is currently ongoing. My research on this collaborative project is supported by the National Science Foundation, the Wenner-Gren Foundation, the Rust Family Foundation, and the University of Illinois at Chicago Office of the Chancellor.
I am also undertaking a comparative petrographic thin-section analysis of prehispanic pottery from six discrete archaeological sites in the Callejón de Huaylas in collaboration with Dr. Isabelle Druc.