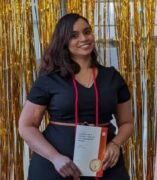 Nirupama Jayaraman
Graduate Student
Anthropology, Sociocultural
Contact
Building & Room:
BSB 2102
Address:
1007 W. Harrison St.
Email:
CV Download:
About
As a social cultural anthropologist, my research interests lie at the intersection of political, urban and economic anthropology. Broadly, I am interested in understanding urban transportation networks in South Asia. I hope to examine the infrastructures and mobilities that produce and are produced by such networks, specifically at the intersections of gender, caste and class. I study the commuter experience of women in Madurai, India on public transportation networks. I'm interested in questions of how the everyday urban space of a provincial city influences embodied gender in public space.
My postgraduate thesis focused on understanding the politics of heritage and urbanization in Chennai, India. Following this, I worked at a policy think-tank, focusing on their Smart Cities project across India. I subsequently co-founded a start-up, where I headed R&D working towards developing a social interaction platform
Selected Grants
Department of Anthropology, UIC, Joel M. Rothschild Memorial Endowment in Geography Award, 2022
American Institute of Indian Studies, Junior Fellowship Alternates List, 2022
UIC, Chancellor's Student Service and Leadership Award, 2022
Political and Legal Anthropology Review, Digital Editorial Fellow, 2021
Department of Gender and Women's Studies, UIC, Mary B. Bialas Award, 2021
National Science Foundation, NSF-REG Data Collection Grant, 2020, PI
Graduate College, UIC, University Fellowship, 2019, fellow
Selected Publications
2021                   Jayaraman, Nirupama. "Indian Food Delivery Networks during the COVID-19 Pandemic." Platypus: The CASTAC Blog, February 5, 2021. https://blog.castac.org/2021/02/indian-food-delivery-networks-during-the-covid-19-pandemic/.
2019                   Jayaraman, Nirupama, Arjun Bhargava, Parama Roy, Bhavna Thyagarajan, and Akshaya Ayyangar. 2019. "Healthy and Planned Urbanization." In Resilient Chennai Strategy, Kaleidoscope: My City through My Eyes, 91-123. Chennai, India: Resiliant Chennai, 100 Resilient Cities Network. Edited by Parama Roy
2017                   Jayaraman, Nirupama and Shamika Ravi. 2017. "Important Lessons for the Smart Cities Mission." The Mint, 28 Jun. Op-ed, Indian national edition. https://www.livemint.com/Opinion/Kdd1dZ3GMr1dl1zMq5tzAL/Important-lessons-for-the- Smart-Cities-Mission.html.
2017                   Ravi, Shamika and Nirupama Jayaraman. 2017. Gender Issues in India: An Amalgamation of Research. New Delhi, India: Brookings India. Policy Brief.
2017                   Ravi, Shamika and Nirupama Jayaraman. 2017. Women and Representative Governance in India. New Delhi, India: Brookings India. Policy Brief
2016                   Jayaraman, Nirupama, "Beyond Madras Week: Exploring the Politics of Heritage and Urbanization in Chennai". Master's Thesis. IIT Madras. 2016
Education
2011-2016, Master of Arts, Development Studies, Indian Institute of Technology Madras, Chennai, India
2019-2021, Master of Arts, Anthropology, University of Illinois at Chicago
Professional Memberships
Current              CASTAC: Anthropology of Science, Technology, and Computing at AAA
Current              National Women's Studies Association
Current             Association of Asian Studies
Current              Society for Social Studies of Science (4S)
Current             American Association of Geographers
Research Currently in Progress
My dissertation research focuses on urban transportation networks in South Asia. I explore the invisibilized labor of strategic gendered navigation of public transport infrastructures specifically in non-metropolitan cities. My project focuses on the experiences of female commuters who use buses and shared-autorickshaws (called "share autos") in the ancient temple city of Madurai, India, often supplemented by auto-rickshaws and cabs with last-mile connectivity shaped by walking. My research is especially urgent against the larger landscape of transport policy and gender-inclusive planning, both of increasing importance in the Global South. Shifting the focus from larger metropolitan cities that are often hubs for performing nationalism, I examine the case of post-colonial, provincial transport systems, where there exist different types of planning (state-mediated formal, people-led informal, and the gray area para-statal informal). I analyze ideas of the embodied and engendered commuter negotiating physical and social infrastructure against the backdrop of urban everyday life.