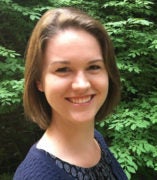 Laura D. Klein, PhD
Visiting Assistant Professor
Anthropology
Contact
Building & Room:
BSB 2138D
Address:
1007 W. Harrison Street
Email:
CV Download:
About
I am a biological anthropologist interested in lactation, immune function, and maternal and infant health. My research focuses on how the maternal environment affects the composition of human milk and the impacts of variation in human milk composition on infant health outcomes. My recent research has examined how trace minerals, immune proteins, and human milk oligosaccharides vary across women living in diverse cultural and ecological environments. My current research utilizes data collected in Krakow and at the Mogielica Human Ecology Study Site in Poland to explore how milk composition varies among mothers from urban and rural environments.
Selected Grants
National Science Foundation, Doctoral Dissertation Research Improvement Grant for "Impacts of maternal environment on milk immunofactors and infant immune system development", Co-Principal Investigator
Wenner-Gren, Dissertation Fieldwork Grant for "Impacts of Maternal Disease Ecology on Milk Immunofactors and Infant Immune System Development", Principal Investigator
Selected Publications
Klein LD, J Huang, EA Quinn, M Martin, AA Breakey, B Scelza, C Valeggia, G Jasienska, H Kaplan, M Gurven, C Lebrilla, K Hinde. Variation among populations in the immune protein composition of mother's milk reflects subsistence pattern. Evolution, Medicine, and Public Health 2018;in press.
Klein LD, AA Breakey, B Scelza, C Valeggia, G Jasienska, K Hinde. Concentrations of trace elements in breast milk: comparisons among women in Argentina, Namibia, Poland, and the United States. PLOS ONE 2017; 12(8):e0183367.
Clancy KBH, LD Klein, I Nenko, A Ziomkiewicz, G Jasienska, R Bribiescas. Relationships between biomarkers of inflammation, ovarian steroids, and age at menarche in a rural Polish sample. American Journal of Human Biology 2013;25:389-398.
Education
PhD, Harvard University, 2018
Professional Memberships
International Society for Evolution, Medicine, and Public Health
Human Biology Associatioon
International Society for Research in Human Milk and Lactation
Selected Presentations
2017, Klein LD, AA Breakey, SF Lipson, C Valeggia, G Jasienska, PE Ellison, K Hinde. Milk cortisol as a signal of maternal energetic condition. Human Biology Association, 42nd Annual Meeting, New Orleans, Louisiana. (Podium)
2017, Klein LD, E Goonatilleke, A Galbarczyk, A Kotlinska, C Lebrilla, G Jasienska, K Hinde. Maternal environment and the composition of breast milk immune proteins in mothers from urban and rural Poland. American Association of Physical Anthropologists, 42nd Annual Meeting, New Orleans, Louisiana. (Poster)
2016, Klein LD, AA Breakey, C Valeggia, G Jasienska, K Hinde. Concentrations of trace elements in human milk: comparisons among women in Argentina, Namibia, Poland, and the United States. International Society for Evolution, Medicine, and Public Health Meeting. Durham, North Carolina. (Poster)
2015, Klein LD, J Huang, EA Quinn, M Martin, AA Breakey, B Scelza, C Valeggia, G Jasienska, H Kaplan, M Gurven, C Lebrilla, K Hinde. Variation among populations in the immune protein composition of mother's milk reflects subsistence pattern. Human Biology Association, 40th Annual Meeting. St. Louis, Missouri. (Invited Poster)