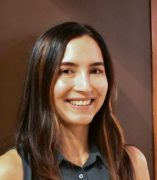 Amanda B. Lee
Visiting Assistant Professor
Anthropology, Biological
Contact
Building & Room:
BSB 2138D/MS 027
Address:
1007 W. Harrison St.
Email:
CV Download:
About
My ongoing research focuses on the multivariate characterization of modern human skeletal remains and how these analyses can improve skeletal interpretation. I am interested in the incorporation of size and shape considerations—specifically asymmetry and allometry—into sorting methods for commingled skeletal remains and how these morphological differences distribute across different populations. I take a broad comparative and interdisciplinary approach to address these questions by integrating multivariate statistics, developmental biology, bioarchaeology, morphometrics, comparative anatomy, forensics, and machine learning.
My current project directly aims to improve standard osteometric sorting and pair-matching techniques with the creation of new methodology based in R. Using large reference datasets consisting of ~ 4,000 individuals and 46 variables, representing both archaeological and recent samples, I address long-standing assumptions of bilateral symmetry and distributional modeling in standard sorting methods. I use the multivariate asymmetry and allometry patterns in these data to create probabilities for potential bone matches in both re-association of elements and bilateral pairs. This approach circumvents and improves upon several deficiencies in previous and current methods.
Going forward, my work will continue to explore morphological relationships within and between individual skeletons using automated- and machine learning-based methods.
Selected Grants
National Science Foundation, Doctoral Dissertation Research Improvement Grant, 2018, Co-Principal Investigator
Selected Publications
A.B. Lee. Sex estimation from postcranial elements in Filipino mortuary remains. ForensicAnthrop., 2019.
S.A. Williams, J. Spear, L. Petrullo, D. Goldstein, A. B. Lee, A. Peterson, D. Miano, E. Kaczmarek, and M. Shattuck. Increased variation in numbers of presacral vertebrae in mammals adapted to suspensory behavior and upright posture. Nat. Ecol. Evol., doi: 10.1038/s41559-019-0894-2, 2019.
A. B. Lee and L. W. Konigsberg. Univariate and linear composite asymmetry statistics for the "pair-matching" of bone antimeres. J. Forensic Sci., doi: 10.1111/1556-4029.13748, 2018.
M. C. Go, A. B. Lee, J. A. D. Santos, N. M. C. Vesagas, and R.C. Crozier. A newly assembled human skeletal reference collection of modern and identified Filipinos. Forensic Sci. Int. 271:128.e1 – 128.e5, 2017.
Service to Community
Leal Science Night, Educator (2017)
Human Biology, Reviewer (2015)
Smithsonian Museum of Natural History, Forensic Anthropology Lab Educator (2011)
Notable Honors
2019, Increasing Diversity in Evolutionary Anthropological Sciences Scholar, American Association of Physical Anthropologists
2019, Honorable Mention: Demitri B. Shimkin Award, University of Illinois at Urbana-Champaign
2017, Cognitive Science/AI Award, Beckman Institute
2016, Graduate Summer Research Assistance Award, University of Illinois at Urbana-Champaign, Department of Anthropology
Education
Ph.D, University of Illinois Urbana-Champaign, 2019
(expected). Anthropology
M.A., University of Illinois Urbana-Champaign, 2018. Anthropology
B.A., New York University, 2013. Anthropology; English & American Literature
Professional Memberships
American Association of Physical Anthropologists
Selected Presentations
An Automated Tool for Measuring Human Limb Bones using 2D Images. Poster Presentation at the American Association of Physical Anthropologists Meeting, Cleveland, OH. March 2019
Differences in Bilateral Asymmetry of the Femur Between Recent and Archaeological Human Populations Using Multivariate Measures. Poster Presentation at the Paleoanthropology Society Meeting, Austin, TX. April 2018
Visual Versus Algorithmic Pair-Matching in a Modern Filipino Individuals. Invited Poster Presentation at the American Association of Physical Anthropologists Meeting, New Orleans, LA. April 2017
Building an Osteological Reference Collection of Modern Filipino Individuals. Invited Poster Presentation at the American Association of Physical Anthropologists Meeting, New Orleans, LA. April 2017
Multivariate Asymmetry in the Femur as a Basis for 'Pair-Matching'. Podium Presentation at the American Association of Physical Anthropologists Meeting, Atlanta, GA. April 2016