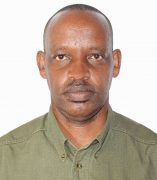 Gerard Nyirimanzi
Graduate Student
Anthropology
About
I am a sociocultural anthropologist broadly interested in strengthening resilience and response to crises, disaster mitigation and conflict resolution in sub-Saharan Africa. My current research focuses on cultural resilience factors that best promote reconciliation in post-conflict societies. Post-genocide Rwanda is my present field of study since 2009 when I co-authored a book, Resilience of the Nation: A History of the Military in Rwanda, published by Fountain Publishers London/Kampala. In 2020-21, I was part of a team of researchers who were tasked to carry out a field study on Rwanda Reconciliation Barometer 2020. From 2019 to 2020, I conducted a fieldwork in my native area, Nyaruguru District of Rwanda, researching on the genocide against Tutsi and its consequences. It was a consultancy study commissioned by the National Commission for the Fight against Genocide (CNLG) and carried out under the supervision of Professor Paul Rutayisire, a historian of the University of Rwanda. My experience and field work outside Rwanda also include South Sudan (2018) and Darfur/Sudan (2007-8) where I served in UN peace support operations. But my keen interest in disaster and conflict management also covers Central African Republic, the Democratic Republic of Congo and Mozambique where Rwanda has been involved in military operations against terrorist groups.
Service to Community
Chairperson of Abacukumbuzi, researchers interested in the preservation of Rwandan history and culture, researching on culture and heritage tourism with a view to develop this promising sector.
Researcher/adviser of "Beyond Conflicts – Rwanda", local NGO under Global Initiatives for Environment and Reconciliation (GER). I work with the community on my PhD thesis.
Council Member of the Chancellery for Heroes, National Orders and Decorations of Honours (CHENO) since 2016. I led the technical team that established the Museum of the Campaign against Genocide situated in the parliamentary building at Kimihurura.
Member of the Rwanda Community Tourism Association (RCTA), where I have already trained Kigali City Tour guides and operators as well as RCTA members and beneficiaries in cultural tourism, in partnership with Rwanda Development Board (RDB).
Consultant of the National Forum for Political Organizations (NFPO), where I lecture on 'Political philosophy and national consciousness in precolonial Rwanda' since 2015.
Lecturer of 'Rwandan history and conflict' in Ingando/Itorero (Rwanda peace-support centers) since 2003.
Active member of Kigali Heritage Tourism and adviser of the University of Tourism, Technology and Business Studies (UTB) in the promotion of cultural tourism in Rwanda
Member of R2P-Rwanda, Kiruri-Intebe y'Abasizi (Kiruri- Headquarters of traditional poets), and Culture and Sports Tourism-cluster within the Ministry of Youth and Sports that oversees the Institute of National Museums of Rwanda. I attend their consultation meetings.
Notable Honors
1997, - "Distinguished Graduate Diploma" with Honors, English Language Center, Lackland, San Antonio, Texas, USA
Education
Master of Arts 2018 in Genocide Studies and Prevention, University of Rwanda, College of Arts and Social sciences, Centre for Conflict Management
Master of Arts 2016 in Security Studies, University of Rwanda, College of Arts and Social sciences, Centre for Conflict Management
Bachelor of Arts 1996 in English language and Literature, National University of Rwanda, Ruhengeri Campus (Musanze)