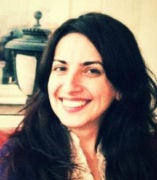 Neslihan Sen
Graduate Student
Anthropology, Sociocultural
Contact
Building & Room:
BSB 2152B
Address:
1007 W. Harrison Street
Email:
CV Download:
About
I am mainly interested in exploring the complex relationships between sexuality, women's bodies, biomedical authority, and political processes in contemporary Turkey. In doing so, in my dissertation, I focus on a specific female sexual disorder, vaginismus, the inability to engage in penile vaginal intercourse. According to recent statistics, it is the most frequently recorded sexual disorder in Turkey. By using vaginismus as a lens, I explore the ways in which state and non-state agents regulate individual bodies and sexualities. By documenting the narratives of women diagnosed with the disorder, their male partners, and their doctors, I try to illuminate the contradictions of biomedical discourse and its complex relationship with gendered agency and practice.
In my dissertation, I analyze and challenge the central role biomedicine has played in the state's construction of modern "healthy" bodies, specifically through the regulation and policing of women's bodies and their reproductive health. Furthermore, I examine how women negotiate biomedical discourses and how a diagnosis might shape and change women's narratives about their bodies and sexualities, and their perception of gender in heterosexual relationships. Taking the increasing popularity of the public discourse around vaginismus into account, I also offer an analysis of the changing healthcare market and scrutinize the ways in which women's bodies and sexualities are commodified. My dissertation, in short, offers a critical analysis of biomedical interventions in women's lives and the complex ways in which women negotiate these interventions in contemporary Turkey.
Selected Grants
University of Illinois at Chicago, Graduate College Dean's Scholar Fellowship, Principal Investigator
KOC-KAM, Koc University Research Grant on Gender Studies, Principal Investigator
American Association of University Women, AAUW International Fellowship, Principal Investigator
Wenner-Gren Foundation, Wenner-Gren Dissertation Fieldwork Grant for Dissertation Research, Principal Investigator
Research Currently in Progress
medicalization of (hetero)sexuality, construction of the body, modernity, gender, biomedicine