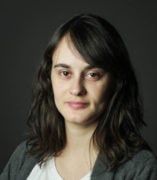 Ana Luiza M. Soares
Graduate Student
Anthropology
Contact
Building & Room:
BSB 2159A
Address:
1007 W. Harrison Street
Email:
CV Download:
About
My research delves into the urban history and anthropology of the informal/formal and legal/illegal sides of the city of Manaus, Brazil. I aim to discuss the history of treatment and ethnic identification of indigenous peoples in the late 19th and early 20th century. This history intent to highlight the importance of indigenous people in the creation of the city of Manaus as a history of evident personal agencies through the analysis of newspapers and criminal processes.
Region: Manaus, Amazonas, Brazil
Committee Chair: Anna Roosevelt
Selected Grants
CAPES/LASPAU, Dissertation Research Fellowship, Principal Investigator
Selected Publications
2014 Os indígenas na cidade de Manaus: entre a invisibilidade e a assimilação [The indigenous people of Manaus: between invisibility and assimilation]. Masters' dissertation, Federal University of Amazonas – Manaus.
2013 Indigenous history in the nineteenth century: the context for discussion of the indigenous presence in the urbanization of Manaus. XXVII History National Symposium.
2013 Indigenous history: ethnogenesis and ethnification. X Reunión de Antropología del Mercosul, Córdoba, p. 1-13.
Notable Honors
2016, Chancellor's Research Award, University of Illinois at Chicago
Education
M.A. Anthropology, University of Illinois at Chicago
M.S. Anthropology, University of Amazonas
B.A. History, University of Viçosa
Research Currently in Progress
Indigenous people of Manaus (1880-1930): the arising of the invisible