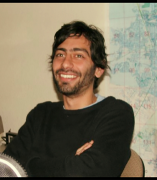 Rodrigo Solinis-Casparius, PhD
Assistant Professor
Anthropology, Archaeology
Contact
Building & Room:
BSB 2138D
Address:
1007 W. Harrison Street
Office Phone:
Email:
CV Download:
About
I am a Mexican archaeologist. I studied Archaeology at Universidad Veracruzana (BA) in Mexico, an MA in Cultural Heritage and Conservation at Universidad de Salamanca, Spain, and a PhD at the University of Washington, Seattle. I have been active in the field collaborating for research projects as well as Cultural Heritage Institutions, Museums, Labs and CRM firms in Mexico, USA, Europe, and Central America.
I practice landscape archaeology. My research focuses on the social implications in the development of urban layout of ancient cities. I conducted my PhD research studying the road network of the prehispanic city of Angamuco (250-1530 CE), located in the core-area of the Purépecha Empire (Lake Pátzcuaro Basin), Michoacán in Mexico. I explore how people moved around their cities during their daily activities. This helps me understand how such cities emerge, develop, are inhabited and experienced by its residents, and the roles that roads play during these processes. I am particularly interested in integrating spatial analysis (e.g. GIS and geographic network analysis), image analysis, and remote sensing (lidar) with other traditional lines of evidence in archaeology (survey and excavation) to study movement and urbanism in Mesoamerica. My other areas of research include ethics of archaeological practice, cultural heritage, and community-based participatory research at mestizo and indigenous communities in Mexico.
I am the co-director of two archaeological research projects in Mexico within the states of Jalisco (with Universidad de Guadalajara) and Michoacán (with Colorado State University)  that include past landscape interaction and urbanism, as well as working with local communities on the understanding and protecting their cultural heritage. I also have other active research projects on the use of digital technologies in Archaeology at Digital Archaeology and Research Lab at University of Washington, Seattle and the Center for Archaeology and Center of Remote Sensing at Colorado State University.
Selected Publications
Solinis-Casparius, R., (2022) "A Mesoamerican Urban Road Network. An analysis of pedestrian pathways of Angamuco, Michoacán". Latin American Antiquity 33(3), 464-484.
Hutson, S., & Solinis-Casparius, R., (2022) "On the Streets: new methods for comparing urban form at Angamuco and Chunchucmil". Ancient Mesoamerica, 1-22.
Cohen, A., and Solinis-Casparius, R., (2017) "The Micropolitics of Public Archaeology: Working with the Ejido in Michoacán, Mexico" Journal of Social Archaeology 17(3), 326-348.
Fisher, C.T., Cohen, A.S., Solinis-Casparius, R., Pezzutti, F.L., Bush, J., Forest, M., Torvinen, A., (2019) "Typology of Ancient Purépecha (Tarascan) Architecture from Angamuco, Michoacán, Mexico". Latin American Antiquity 30(03):510-528.
Notable Honors
2020, Alfonso Caso Award. Best Archaeology Dissertation in Mexico, INAH
2019-2020, Postdoctoral Fellowship, Department of Anthropology & Geography / Department of History. Colorado State University, Fort Collins
2010-215, Mexican National Council of Science and Technology PhD Fellowship, CONACYT (Consejo Nacional de Ciencia y Tenología)
2010-2013, PhD Fellowship, Fulbright
Education
Ph.D., University of Washington, 2019. Archaeology
M.A., University of Washington, 2013. Anthropology
M.A., Universidad de Salamanca, Spain, 2008. Cultural Heritage and Conservation
B.A., Universidad Veracruzana, Mexico, 2003. Archaeology
Professional Memberships
Associated Researcher:
- Center for Archaeology and Remote Sensing, Colorado State University
- Digital Archaeology and Research lab, University of Washington, Seattle
- Laboratorio de Estudios Mexicanos y Mesoamericanos, Universidad de Guadalajara, MX
Adjunct Curator:
-The Negaunee Integrative Research Center, The Field Museum of Chicago
Research Currently in Progress
Active Research projects:
Co-PI   Legacies of Resilience: Lake Patzcuaro Basin Archaeological Project (LORE-LPB), Phase II Urbanism in Michoacán 250-1530 CE (Angamuco site). Projected next field season: Summer 2022 UIC in collaboration with Colorado State University.
Co-PI   Proyecto Arqueológico Cuenca de Sayula (PACS), Phase IV Landscape and Cultural transformations 1500 BCE-1520 CE (Four sites around Sayula Basin). Projected next field season: Winter 2023. UIC in collaboration with Universidad de Guadalajara, MX