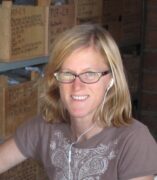 Peri A. Johnson, PhD
Clinical Assistant Professor
Anthropology, Archaeology
Contact
Building & Room:
BSB 2110B
Email:
CV Download:
Related Sites:
About
A survey archaeologist, I conduct fieldwork projects in Turkey with an emphasis on the second through first millennia BCE. Many of my more theoretical interests emerge from the fieldwork encounter, both in the colonial past and the neoimperial present. These range from colonial research as extraction, the illicit antiquities market, and the intertwined destruction of archaeological and ecological landscapes under globalized capitalism, particularly how all of these impact the construction of knowledge, and the legal and regulatory context of fieldwork. We are at a turning point in fieldwork as we transition from a postcolonial critique of our colonial framework to the decolonization of our knowledge and practice as the earth is warming. Survey methodology is dependent on technologies developed for mining and military applications; fieldwork practice must respond to the politics of these technologies and of heritage, particularly as both relate to the carbon economy.
I am working on a book project provisionally titled Archaeology as extraction; fieldwork in the Ottoman Empire and Turkish Republic.
Selected Publications
Johnson, P. [Forthcoming]. "Comparative imperialisms: Zımbıllı Tepe and the organization of the Taşköprü Basin," in Contextualising Pompeiopolis; urban development in Roman Anatolia from a comparative perspective, ed. L. Summerer, P. Johnson, and J. Koch. Halle: Zentrum für Archäologie und Kulturgeschichte im Schwarzmeerraum.
Harmanşah, Ö., P. Johnson, M. Durusu-Tanrıöver, and B. Marsh. 2022. "The archaeology of Hittite landscapes: a view from the southwestern borderlands," Journal of Eastern Mediterranean Archaeology and Heritage Studies 10:1‒48.
Harmanşah, Ö., P. Johnson, S. Martino, M. Durusu-Tanrıöver, and B. Marsh. 2021. "Mountains as connected landscapes of alterity: Boz Mountain Range and its piedmont," in The archaeology of Anatolia, vol. 4; recent discoveries (2018–2020), ed. S.R. Steadman and G. McMahon. Newcastle upon Tyne: Cambridge Scholars, 287‒299.
Harmanşah, Ö., and P. Johnson. 2020. "Yollar ve güzergâhların siyasi ekolojisi: Yalburt Yaylası ve Çevresi Arkeolojik Yüzey Araştırma Projesi 2018 sezonu," Araştırma Sonuçları Toplantısı 37.3:189–207.
Johnson, P., and Ö. Harmanşah. 2019. "The political ecology of roads and movement: Yalburt Yaylası Archaeological Landscape Research Project 2018 Season," in The archaeology of Anatolia, vol. 3; recent discoveries (2017–2018), ed. S.R. Steadman and G. McMahon. Newcastle upon Tyne: Cambridge Scholars, 193–204.
Education
PhD Art and Archaeology of the Mediterranean World, University of Pennsylvania
BA Classics, Reed College
Professional Memberships
Society for American Archaeology
Archaeological Institute of America
Selected Presentations
"Dissolution or Collapse? The Early Iron Age in the Western Borderlands of the Hittite Empire," 124th Annual Meeting of the Archaeological Institute of America, 5–8 January 2023, New Orleans.
"Belligerent conifers: archaeological survey in the pine monoculture mountains of northern Turkey," American Schools of Oriental Research Annual Meeting, 16‒19 November 2022, Boston.
"Disposable landscapes of the Anthropocene: destruction of local architectural heritage in Konya province, Turkey," co-authored with Ö. Harmanşah, 2022 Keyman Annual Conference: Sites of Memory, Sites of Loss: Politics of Archeology and Heritage in Turkey and Post-Ottoman Lands, Northwestern University, 3‒4 June 2022, Evanston.
"Hittite imperial policies and urban planning in the western borderlands," co-authored with Ö. Harmanşah, 87th Annual Meeting of the Society for American Archaeology, 30 March–3 April 2022, Chicago.
"Sly scientific metaphors of colonialism in the Ottoman Empire: rethinking Kant's fieldwork and Foucault's archaeology," Art History Colloquium, University of Illinois at Chicago, 4 March 2022, Chicago.
Research Currently in Progress
Yalburt Yaylası Archaeological Landscape Research Project, 2010‒2022