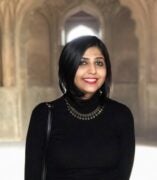 Lakshita Malik
Graduate Student
Anthropology, Sociocultural
Contact
Building & Room:
BSB 3148A
Address:
1007 W. Harrison Street
Email:
CV Download:
About
I work on questions of aesthetics, visual cultures, digital media performances, labor, and capital accumulation. My dissertation research focuses on beauty work in urban New Delhi and the economic, cultural, and political landscapes within which this work becomes meaningful. I am interested in the seemingly innocuous and superficial sites in which certain forms of labor become valuable in relation to existing forms of social, economic, and cultural capital.
Selected Publications
Malik, L. 2022, "Everyone Wants to Feel Like a Movie Star": Aesthetics, Work, Pleasure, and Caste in India. Anthropology of Work Review. https://anthrosource.onlinelibrary.wiley.com/doi/10.1111/awr.12242
Tarini Bedi, Aditi Aggarwal, Josephine Chaet, Lakshita Malik 2021 "Feminist Pedagogy Through the Small Fieldnote." Feminist Anthropology.  https://doi.org/10.1002/fea2.12068
Malik, L., 2019. 'Tayyari Jeet Ki': The Production of Childhood as a Cultural Trope of Developmentalism. In Investigating Developmentalism (pp. 141-159). Palgrave Macmillan, Cham.
Education
2018- present: PhD in Anthropology Graduate school in Anthropology at University of Illinois at Chicago (UIC)
2015-2017: MPhil in Sociology from Jawaharlal Nehru University, Delhi, India
2011-2013: MA in Sociology from Jamia Millia Islamia University, Delhi. India
2008-2011: BA(H) in Sociology from Delhi University, Delhi, India
Research Currently in Progress
I am currently interested in studying the emergent forms of urban civic bodies in the North Indian context; particularly the Resident Welfare Associations (RWAa). I am looking at the gender dimension of these civic bodies, especially with respect to the performance of masculinity that is facilitated by the blurring of public and private spaces.