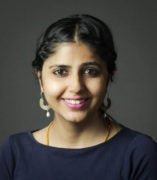 Lakshita Malik
Graduate Student
Anthropology, Sociocultural
Contact
Building & Room:
BSB 3148A
Address:
1007 W. Harrison Street
Email:
About
I am interested in the anthropology of urban space, the politics of gender and the performance of masculinity. I am also interested in the anthropological study of culture, and consumer culture in particular. My MPhil dissertation was entitled "Urban Domestic Spaces in the Indian Context" where I used visual media such as films and magazines to explore the production of urban domestic spaces in the context of North Indian cities. I specifically looked at the the way in which middle-class domestic spaces are produced through the performance of certain types of masculinity and femininity.
Education
MPhil in Sociology from Jawaharlal Nehru University, Delhi
MA in Sociology from Jamia Millia Islamia University, Delhi
BA(H) in Sociology from Delhi University, Delhi
Research Currently in Progress
I am currently interested in studying the emergent forms of urban civic bodies in the North Indian context; particularly the Resident Welfare Associations (RWAa). I am looking at the gender dimension of these civic bodies, especially with respect to the performance of masculinity that is facilitated by the blurring of public and private spaces.