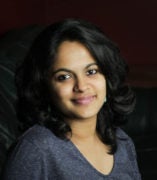 Shilpa Menon
Graduate Student
Anthropology, Sociocultural
Contact
Address:
1007 W. Harrison Street
Email:
About
I am interested in exploring the emerging mobilizations around non-normative gender and sexuality in Kerala through an ethnographic, queer theoretical framework. My work seeks to recover alternative genealogies of queer networks and collectivities that are elided by studies that engage with postcolonial and neoliberal paradigms. This, I argue, would entail going beyond the imaginary and scale of the nation, one that is overrepresented by theatres of colonial and postcolonial knowledge production. Currently, I am  exploring the emergent category of "transgender" in Kerala's public culture and the ways in which it is shaping, and being shaped by, liberal-democratic politics of recognition.
Selected Grants
University of Illinois at Chicago, Chancellor's Graduate Research Award (2017), Principal Investigator
Education
M.A. (Integrated) 2012-2017 Indian Institute of Technology Madras, English Studies
Final Project: Queering the Malayali Woman: Female Performance, Queer Visibilization and Transfemininity in Kerala
Selected Presentations
2018   Menon, Shilpa. ""Duping" as Queering: Understanding the Popularity of "Female Dupes" in Contemporary Kerala". Paper presented at Engendering Change 2018: Eighth Annual Chicago Area Graduate Conference on Gender and Sexuality, Center for the Study of Gender and Sexuality, University of Chicago, Illinois, 14 April 2018.
2017   Menon, Shilpa. "We're Better than the Women: Spectacular Transfemininity in Malayalam Television". Paper presented at Chikitsa 2017: National Students' Seminar on 'Kaam-Sutra: sexuality, Work and Workplace', KSP Women's Studies Centre, Pune University, India, 10 March 2017.
2016   Menon, Shilpa and Liza Tom. "Disrupting the Hijra Stereotype: Negotiations of Femininity in Tirunangai Rites of Transition". Paper presented at Quest 2016: national Seminar on Queer Discourses and Social Dialogues, Centre for Development Studies, Thiruvananthapuram, India, 16-17 December 2016.