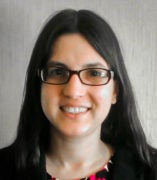 Christina Nicholas, PhD
Assistant Professor
College of Dentistry, Department of Orthodontics
About
I'm a biological anthropologist and I hold a faculty position in the College of Dentistry and an affiliation with the Department of Anthropology. I received my training at the University of Iowa, where I also did a postdoc. My background is in paleoanthropology and human variation. My research focuses on factors, genetic and enviornmental, which influence craniofacial growth and development. I am particularly interested in how obesity affects dental development and eruption - we know that obese children erupt their teeth at younger ages, but we don't know why. One of my current projects is examining whether increased oral inflammation may be associated with early tooth eruption in obese children.
Selected Publications
Nicholas, CL, Kedavy, K, Holton, NE, Marshall, T, Richter, A, Southard, T. 2018. Childhood body mass index is associated with early dental development and eruption in a longitudinal sample from the Iowa Growth Study. American Journal of Orthodontics and Dentofacial Orthopedics.154: 78-87.
Nicholas, CL, Thalji, G, Richter, A. 2018. Childhood obesity and accelerated timing of dental maturation: A review. Forensic Anthropology. 1: 170-179.
Marchi, D, Proctor, D, Huston, E, Nicholas, CL, Fischer F. 2017. Morphological correlates of the first metacarpal proximal articular surface with manipulative capabilities in apes, humans, and South African early hominins. Comptes Rendus Palevol. 16: 645-654
Nicholas, CL. 2016. Fetal and neo-natal maxillary ontogeny in extant humans and the utility of prenatal maxillary morphology in predicting ancestral affiliation. American Journal of Physical Anthropology. 161: 448-455.
Holton, NE, Nicholas, CL, Marshall, SD, Franciscus, RG, Southard, TE. 2015. The effects of altered maxillary growth on patterns of mandibular rotation in a pig model. Archives of Oral Biology. 60: 933-940.
Nicholas, CL, Franciscus, RG. 2014. The Ontogeny of Nasal Floor Shape Variation in Extant Humans. American Journal of Physical Anthropology. 115: 369-378.
Education
Postdoctoral Scholar, Iowa Institute for Oral Health Research, University of Iowa (2015-2016)
PhD, University of Iowa (2015)