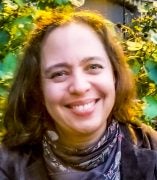 Gabrielle S. Powell
Graduate Student
Anthropology, Sociocultural
Contact
Building & Room:
BSB 2102/MS027
Address:
1007 W. Harrison St.
Email:
CV Download:
About
I study how household economies - usually associated with preindustrial contexts - figure into daily life in the city.  The focus of my research is how dislocated rural African-American populations navigate an urban environment through cooperative activities led by women, like gardening, foodways, and care of children.  For the past five years I have been studying Chicago's historic and contemporary local food system and serving as an applied anthropologist in the non-profit sector.  Engaging with African-American local food sovereignty activists and working in the food sector directly myself, are foundational to my conducting research at the doctoral level related to food, households (gender), and mobility.  I explore rural-urban relationships through spatial network analysis and participatory asset-mapping.
American cities like Chicago have become sites for extensive community gardens and pilot sites for urban agriculture, in response to local food insecurity.  Northeastern Illinois is gaining increasing attention as an entrepreneurial food community, supported by recent legislation in 2018 relaxing restrictions on home-based or cottage food production.  Ethnographic research drawing attention to the tangible and intangible cultural heritage of ethnic communities has the potential of stimulating interest from within the community, investment and entrepreneurship, often in the form of cultural and eco-tourism.  Recognizing and preserving the history of African-American foodways, can stimulate more engagement in entrepreneurship and local food system development, in the context of Chicago's vital food economy.
Selected Publications
2002   "Conducting Ethical Social Research Within Communities," within "Topical Discussion: Representing and Navigating the World: Steps Toward Assessing Native-American Youth," in 14thAnnual Proceedings – A System of Care for Children's Mental Health: Expanding the Research Base. Louis de la Parte Institute Publication #203. Tampa, FL: 371-77.
1996   Published scientific illustrations in "Paleoindian Cave Dwellers in the Amazon: The Peopling of the Americas," in Science,April 19: 373-84.
1995/6          Published abstract of paper: "Storing the Milky-Way:  A Preliminary Appraisal of Chancay ChichaJars as Celestial Effigies," in Willay, Nos. 42/43
Notable Honors
2019, Al & Judy Blitz Scholarship, University of Illinois at Chicago, Department of Anthropology
2019, Graduate Access Predoctoral Fellowship, University of Illinois at Chicago
2019, Edward Lee Diversity Scholarship, Oral History Workshop, Southern Foodways Alliance at the University of MS, Oxford
2016, Phi Theta Kappa - Honor Society, Kennedy-King College, City Colleges of Chicago
Education
2018 AAS, Culinary Arts, Washburne Culinary & Hospitality Institute, Kennedy-King College, City Colleges of Chicago – High Honors
2008 BA, Film & Video, Columbia College Chicago – With Honors
1996 MA, Anthropology, University of Illinois at Chicago
1995 Museology Certificate, History of Art & Architecture Dept., University of Illinois at Chicago
1992 BFA, Fine Art, School of the Art Institute of Chicago
Licensures and Certifications
Basic Human Subjects Research Course for Social/Behavioral Research Investigators & Key Personnel, Collaborative Institutional Training Initiative (CITI) Program (UIC: 2019-2022).
CAPM – Certified Associate in Project Management, Project Management Institute (2017-2022).      
CIRTification: Community Involvement in Research Training in Human Research Protections for (Non-Academic) Community Research Partners, Chicago, IL (2019-2021).
Healthy Chicago – Certified Foodservice Manager,Chicago, IL (2015-2020).
Professional Memberships
Afro-American Genealogical and Historical Society of Chicago, American Anthropological Association, American Association of Family & Consumer Sciences, Culture & Agriculture Section of the American Anthropological Association, Asset-Based Community Development (ABCD) Institute - Chicago Community of Practice, International Federation for Home Economics, National Restaurant Association Supply Chain Management Executive Study Group, Project Management Institute (PMI), Society for the Anthropology of Food & Nutrition, Southern Foodways Alliance.
Selected Presentations
2018   Convened & Served as Co-Discussant for Roundtable "Just/Green: Activating Campus Spaces for Food Social Justice & Experiential Learning" at the Midwest ECO Conference of the Society for Community Research and Action: "Transforming Communities, Changing Lives: Promoting Equity and Justice through Research and Action," UIC, IL.
2018   Workshop with M. Doane, UIC, "Praxis in Place: Creating a Network of Food & Justice Assets & Allies Across Campus(es)" at the Midwest ECO Conference of the Society for Community Research and Action, UIC, IL.
2001   Presented paper on Conducting Ethical Social Research in Indian Country at 14thAnnual Research conference – Research & Training Center for Children's Mental Health, University of South Florida, Tampa, FL.
1995   Presented paper on Peruvian ceramics at the Annual Midwest conference of Amazonian and Andean Archaeology and Ethnohistory, Field Museum of Natural History, Chicago, IL
Research Currently in Progress
Mapping Historic Chicago's Urban Gardens, Food Establishments and Food Production Assets