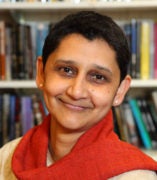 Gayatri Reddy, PhD
Associate Professor
Anthropology and Gender and Women's Studies, Sociocultural
About
Dr. Reddy's is a sociocultural anthropologist and her research and teaching interests lie at the intersections of sexuality, gender, health, and the politics of subject and community-formation in India, as well as within the immigrant South Asian queer community in the U.S. Broadly, her work interrogates the contours of cultural belonging through the paradoxical dialectic of "alienation and intimacy." She is the author of With Respect to Sex: Negotiating Hijra Identity in South India (University of Chicago Press, 2005), an ethnography that problematizes representations of hijras as the so-called 'third sex' of India and challenges the sufficiency of sexuality and gender performativity as adequate glosses on hijra identification. Her research locates such figures of sexual difference, and the domain of sexuality more generally, within a broader field of social difference, exploring the intersections of gender and sexuality with religion, race, ethnicity, and class in South Asia and its diaspora.
More recently, she has begun a research project exploring the Siddi or "African" diaspora in India. The research focuses on so-called slave migratory histories – both "eunuch" slaves and slave soldiers - that often pre-date the modern period. Tracing these historical routes and geopolitical mappings through the twin poles of eunuch asexuality and hyper-virile masculine soldiery, this project explores the complex ways in which race, sexuality, and masculinity are constructed through local contours of difference, such as religious and caste difference, to shape belonging. Dr. Reddy teaches courses on Transnational Feminisms, South Asia, South Asian Diasporas, Gender, Race, and Health, Anthropology of the Body, and Queer Anthropology.
Selected Publications
Books:
2006
With Respect to Sex: Negotiating Hijra Identity in South India.  Chicago: University of Chicago Press, (Re-published in India with Yoda Press, 2007)
2010
Histories of Intimacy and Situated Ethnography, (co-edited with Karen Leonard and Ann Gold). New Delhi: Manohar Press
Articles:

2010
"Hijras, AIDS Cosmopolitanism' and Questions of Izzat in Hyderabad."  Routledge International Handbook of Sexuality, Health and Rights, edited by Peter Aggleton and Richard Parker, Routledge (New York), 2010.
2010
"Crossing Lines of Difference: Transnational Movements and Sexual Subjectivities in India." Everyday Life in South Asia, 2nd edition, edited by Diane Mines and Sarah Lamb, Indiana University Press (Bloomington), 2010.
2007
"Sexual Difference and its Discontents: Shifting Contexts of 'Thirdness' in Hyderabad, India." The Phobic and the Erotic: the Politics of Contemporary Sexualities in India, edited by Brinda Bose and Shubabrata Bhattacharya, Berg Publications (London)/Oxford University Press (India), 2007.
"Geographies of Contagion: Hijras, Kotis, and the Politics of Sexual Marginality in India" Special issue of Anthropology and Medicine titled 'The Ills of Marginality,' edited by William Sax and Stefan Ecks, December 2005.
2003'
'Men' Who Would Be Kings: Celibacy, Emasculation and the Re-Production of Hijras in Contemporary Indian Politics,' Social Research, vol. 70 (1), Spring 2003.
Education
2000 - PhD, Anthropology, Emory University
2001 - MPH, School of Public Health, Emory University
1992 - MA, Anthropology, Columbia University
1990 - BA, Psychology, University of Delhi