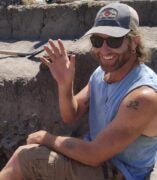 William P. Ridge
Graduate Student
Anthropology, Archaeology
About
I am an archaeologist that is interested in the long-term changes that occurred in prehistoric societies. My primary research focuses on social and demographic changes during the Copper Age My (4500-2800 BCE) on the Great Hungarian Plain. My dissertation research looks at the settlement patterns and social organization of the Bodrogkeresztúr period.
I am director of Copper Age Settlement Project (CASP) in Békés County, Hungary. I have also worked on other projects in the Körös region that have investigated prehistoric societies from the Neolithic through the Bronze Age (KRAP, PIPP, BAKOTA).
I am also interested in Aegean prehistory and worked at the Final Neolithic cave site of Alepotrypa on the Mani Peninsula as part of the Diros Project.
Selected Grants
National Science Foundation, Doctoral Dissertation Research Improvement - Sociocultural and demographic changes in prehistoric village societies on the Great Hungarian Plain (4500-3500 BCE), Co-PI
American Philosophical Society, Lewis and Clark Fund for Exploration and Field Research, 2019
University of Illinois at Chicago, Chancellor's Graduate Research Award, 2018
Selected Publications
Parkinson, W.A., W.P. Ridge, and A. Gyucha. 2018. Village Nucleation and Centralization in the Later Neolithic of Southeastern Europe: A Long-Term, Comparative Approach. In Communities in Transition: The Circum-Aegean Area During the 5th and 4th Millennia BC, edited by S. Dietz, F. Mavridis, Z. Tankosić, and T. Takaoğlu. Oxbow Books: Oxford. Pg. 17-26.
Education
2014-present University of Illinois at Chicago Anthropology PhD program, Chicago, IL
2014 M.A., Anthropology, University of Illinois at Chicago, Chicago, IL
2011 B.A., Classics, University of Arizona, Tucson, AZ
Selected Presentations
We turned our gaze from the castles in the distance: magnetic prospection at Bodrogkeresztúr sites in southeastern Hungary. William P. Ridge and Apostolos Sarris. 28th Annual Meeting for the European Association of Archaeologists, Budapest, Hungary, 31 August – 3 September 2022.
I Would Walk 500 Miles: Survey of Copper Age Settlements in Eastern Hungary. William P. Ridge. 84th Annual Meeting of the Society for America Archaeology, Albuquerque, New Mexico, 10-14 April 2019
Obsidian Procurement and Exchange in Peru: A Social Network Analysis (SNA). David A. Reid and William P. Ridge. 83rd Annual Meeting of the Society for American Archaeology, Washington, DC, 11-15 April 2018.
Research Currently in Progress