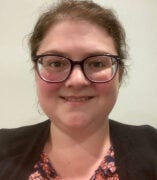 Lita Sacks, PhD
Clinical Assistant Professor
Anthropology, Biological
Pronouns: She/Her/Hers
Contact
Building & Room:
BSB 3148D
Address:
1007 W. Harrison St. Chicago, IL
Email:
CV Download:
About
I earned my PhD in biological anthropology from Indiana University in 2019. My dissertation employed non-destructive osteological methods to examine prehistoric health, diet, and mortuary practices across multiple archaeological sites in Illinois. Since graduating, I have remodeled the foundations from my dissertation into two distinct research projects. The first is focused on bioethics, inspired by my work achieving NAGPRA compliance at Eastern Washington University and Augusta University. In it, I reanalyze published osteological data to provide new conclusions crucial to repatriation. The second uses empirical assessments of human osteology to identify and diagnose syndromic individuals in prehistory. This research involves collaborations with other disabled anthropologists and confronts ableist ideas in biological anthropology.
My teaching is multidisciplinary and emphasizes the real-world relevance of biological anthropology. With all of my courses, I aim to show the constant interplay among the social sciences, natural sciences, and humanities. In my upper-division courses, I also employ many tenets of "Ungrading," a teaching style in which students develop their own objectives for a course, evaluations for individual assignments are replaced by personal feedback, and final course grades are determined collaboratively between the instructor and the student. The foundation of Ungrading is that students learn better when their motivation is intrinsic (based on personal interests and goals) than extrinsic (obsessing over measuring up against arbitrary scales).
Selected Publications
Sacks, Lita. 2022. "An Argument for the Consolidation of Koster Site and Koster Mounds in Research        and Repatriation" Illinois Archaeology. 32: 61-96.
Sacks, Lita. 2018. "Multiple Supernumerary Teeth in a Likely Syndromic Individual from Prehistoric     Illinois" Archives of Oral Biology 93: 100-106.
Education
PhD in Biological Anthropology with minors in Anatomy Education and Paleontology from Indiana University, 2019
MA in Anthropology from Indiana University, 2015
BA in Biology with minors in Anthropology and Jewish Studies from Vassar College, 2012
Professional Memberships
American Anthropological Association
American Association of Biological Anthropologists
Paleopathology Association
Register of Professional Archaeologists (ID: 5090)
Southeastern Archaeological Conference