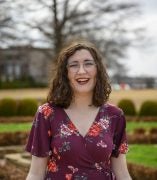 Alannah Templon
Graduate Student
Anthropology, Biological
About
I am currently conducting research focused on understanding the potential impact that various socioeconomic factors such as migration, household composition, and access to health care, can have on maternal and child health.
Selected Publications
Templon, A. R., Kirsch, D. R., & Towner, M. C. 2021. Contributions of evolutionary anthropology to understanding climate‐induced human migration. American Journal of Human Biology, 33(4), e23635.
Education
2021 Bachelor of Science in Biology and Sociology, Oklahoma State University
Professional Memberships
American Association of Biological Anthropology
Selected Presentations
Templon A., Kirsch D., Towner M. April 2021. Wentz Research Symposium, Oklahoma State University, Stillwater, Ok. The Impact of Migration on Maternal Reproductive and Marital Life Histories.